Regular price
Sale price
RM23.00
Unit price
per
Sale
Sold out
All transactions secured and encrypted
Eucalyptus globulus

India

Steam Distillation

Leaves

Strong, cineolic & camphoraceous

5ml
Pewangi aromatik natural yang segar untuk ruang kediaman dan ruang kerja

Meredakan masalah pernafasan dengan aroma yang menyegarkan

Melegakan sakit tekak, batuk dan selesema

 Melonggarkan mukus

Memberi sokongan dan kestabilan emosi yang kuat

Meningkatkan fokus dan fikiran yang jelas

Gunakan pada  NARINAR ultrasonic diffuser. Titik 4-5 titis pada diffuser berkapasiti 220ml. Untuk kapasiti diffuser berbeza, boleh pelbagaikan kiraan titisan. 

Dicampurkan dalam Carrier Oil untuk tujuan urutan di bahagian badan.

Kegunaan kanak-kanak, campurkan5-6 titik Eucalyptus Essential Oil di dalam 30ml Carrier Oil.

Kegunaan dewasa, campurkan 10-12 titik Eucalyptus Essential Oil bersama 30ml Carrier Oil. 

Teknik Deep-Inhale. Titikkan 1 titis Eucalyptus Essential Oil pada tapak tangan. Gosok kedua tapak tangan, tekup di hidung dan tarik nafas untuk nikmati aroma yang segar.

Sapukan di kawasan titik tertentu,  iaitu di bahagian dada untuk melegakan batuk dan pernafasan.

DIY fabric mist dengan mencampurkan  2-3 titis Eucalyptus Essential Oil dalam botol semburan air. Semburkan fabric mist pada bantal , fabrik kusyen dan langsir.Tempoh penggunaan maksimum untuk 2 minggu. Selepas itu harus dibuang.

Penggunaan luaran sahaja. Jika hamil atau di bawah pemantauan doktor, sila rujuk doktor anda. Elakkan sentuhan dengan kawasan mata dan anggota-anggota lain yang sensitif.

Tidak sesuai untuk yang menghadapi sejarah Epilepsi atau sawan.

Kami tidak menggalakkan Essential Oil diletak dalam makanan dan diminum selari dengan saranan persatuan aromaterapi antarabangsa di antaranya National Association for Holistic Aromatherapy (NAHA) dan International Federation of Aromatherapists (IFA) yang tidak menggalakkan Essential Oil diambil secara dalaman.

View full details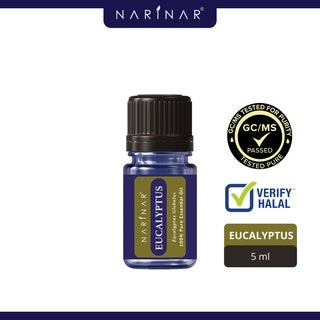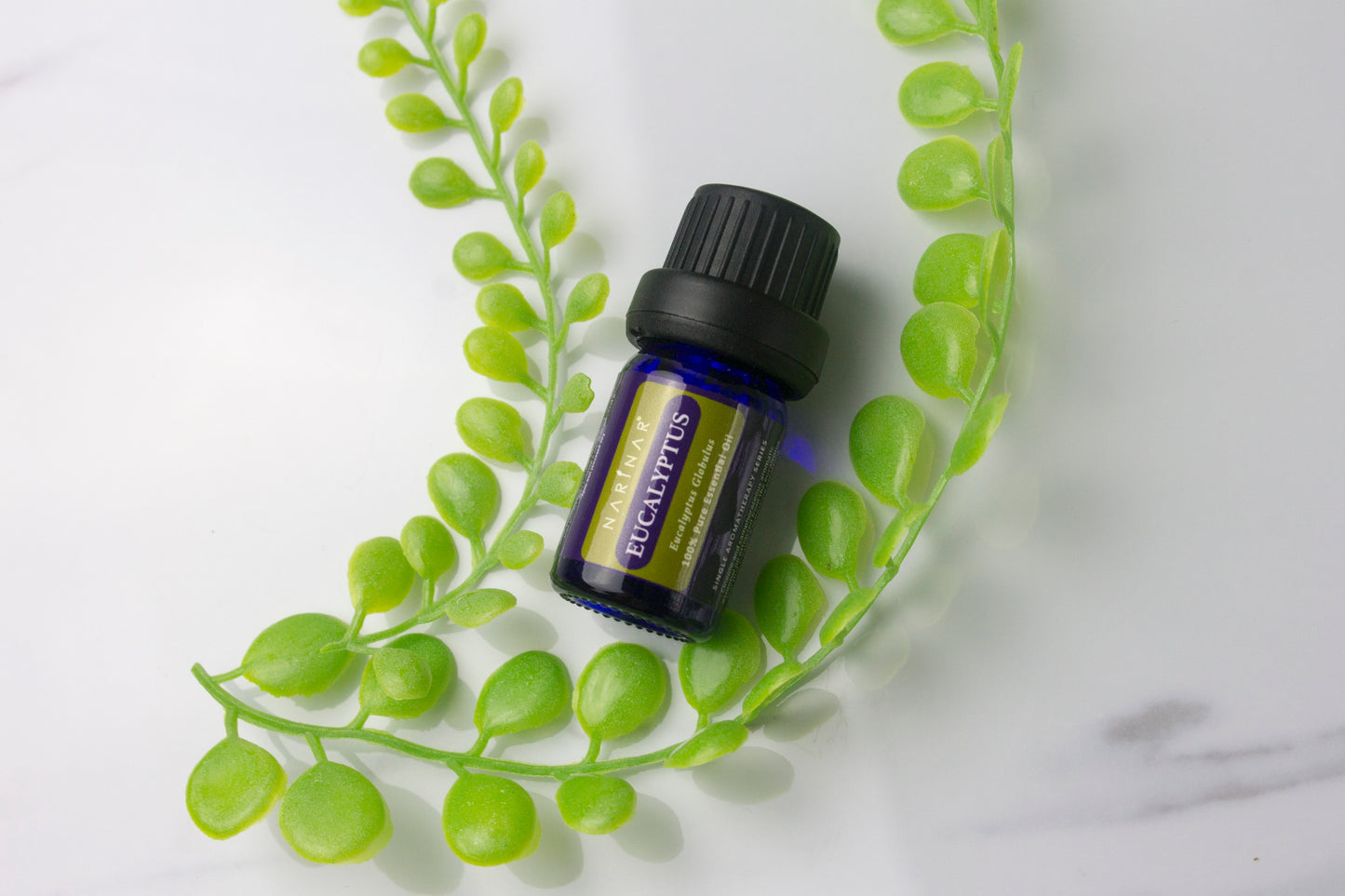 3 Cara Menggunakan Essential Oil
Topical Massage

Using Vitaflex massage
Use 4-5 drops of Narinar EO
Approved by Certified Aromatherapist

Bath

Use 5-10 drops of essential oil
Use sponging technique
Approved by Certified Aromatherapist

Aromatherapy Diffuser

Ultra Quite
Approved by CE, FCC/ Safe for Baby
As a night light (7 LED Color)
Waterless Auto-Cut-Off
Approved for best use with NARINAR Therapy Oils
Mengapa Anda Tak Perlu Risau Dengan Produk Kami?
DIUJI DI MAKMAL

OLEH AROMATHERAPIST BERTAULIAH

GMP

DISAHKAN HALAL

SELAMAT UNTUK BAYI
Pengguna Sebenar. Hasil Sebenar.