Regular price
RM129.00
Sale price
RM84.00
Unit price
per
Sale
Sold out
All transactions secured and encrypted
Adunan 100 % Pure Natural Essential Oil iaitu Rose, Lavender, Bergamot, Grapefruit & Rose Geranium Leaf.
Adunan ini diuji di makmal dan lulus :
Ujian Logam Berat dari SIRIM
Ujian Mikrobiologi dari SIRIM
Ujian Kestabilan dari SIRIM
Ujian di makmal Halvec (makmal panel JAKIM) yang memberi keputusan bahawa ia bebas dari bahan terlarang seperti porcine.
Laporan Certificate of Analysis
Isipadu : 10ml
Rose Love adalah formula khas dan sangat istimewa untuk para wanita.
Rose yang memberi maksud Relax, Optimistik, Serene dan Energised. Tagline Rose Love ini
sangat sesuai untuk wanita bekerjaya dan juga suri rumah masa kini yang sibuk menguruskan persiapan keluarga.
Kebaikan minyak pati Rose antaranya menyeimbangkan hormon wanita, meningkatkan semangat dan emosi yang positif.
Wangian aroma bunga ros dapat juga dijadikan minyak wangi.
Kids Friendly: Sesuai untuk golongan dewasa...
Kegunaan luar sahaja. Sila dapatkan nasihat pakar untuk wanita mengandung dan pengguna yang di bawah pemerhatian doktor. Elak sentuhan pada mata dan kawasan sensitif.

Kami tidak menggalakkan Essential Oil diletak dalam makanan dan diminum selari
dengan saranan persatuan aromaterapi antarabangsa di antaranya National Association for
Holistic Aromatherapy (NAHA) dan International Federation of Aromatherapists (IFA) yang tidak menggalakkan Essential Oil diambil secara dalaman.
View full details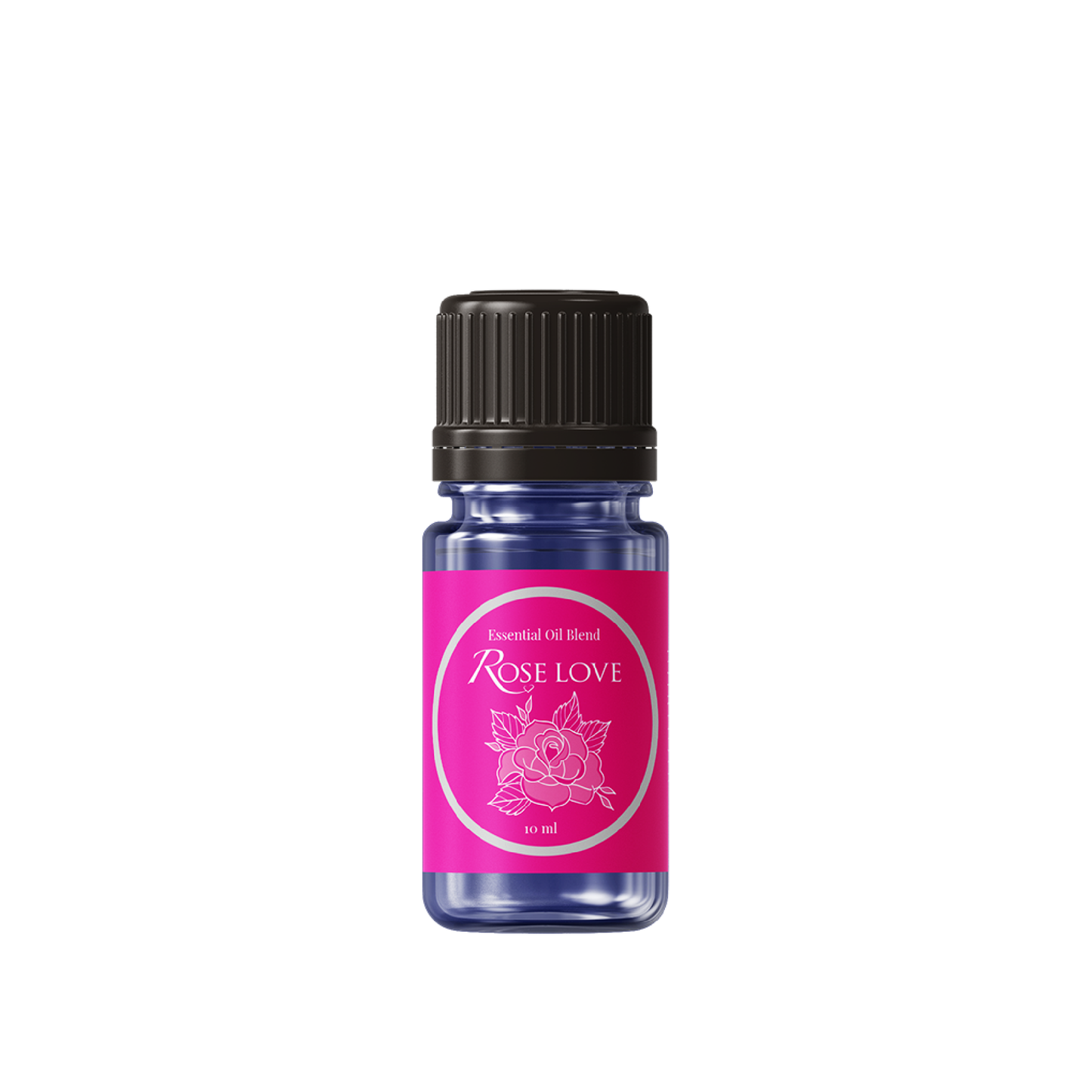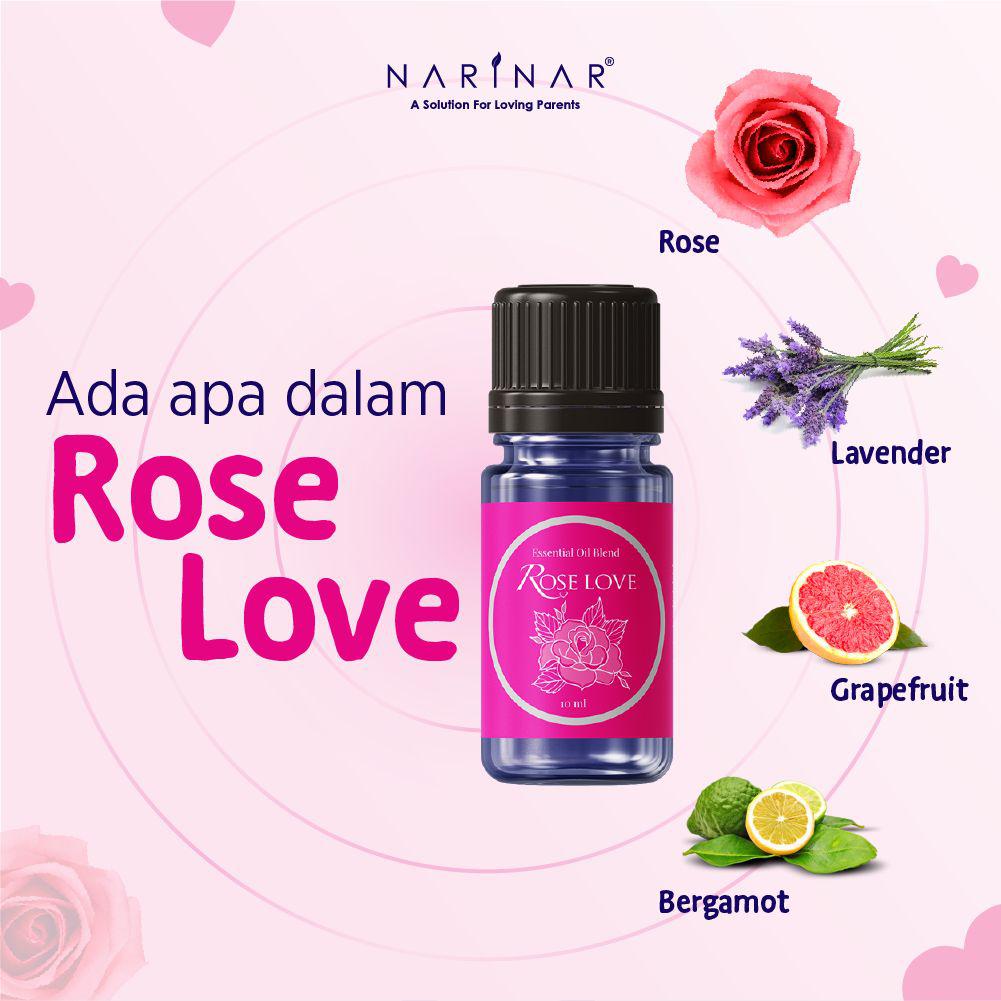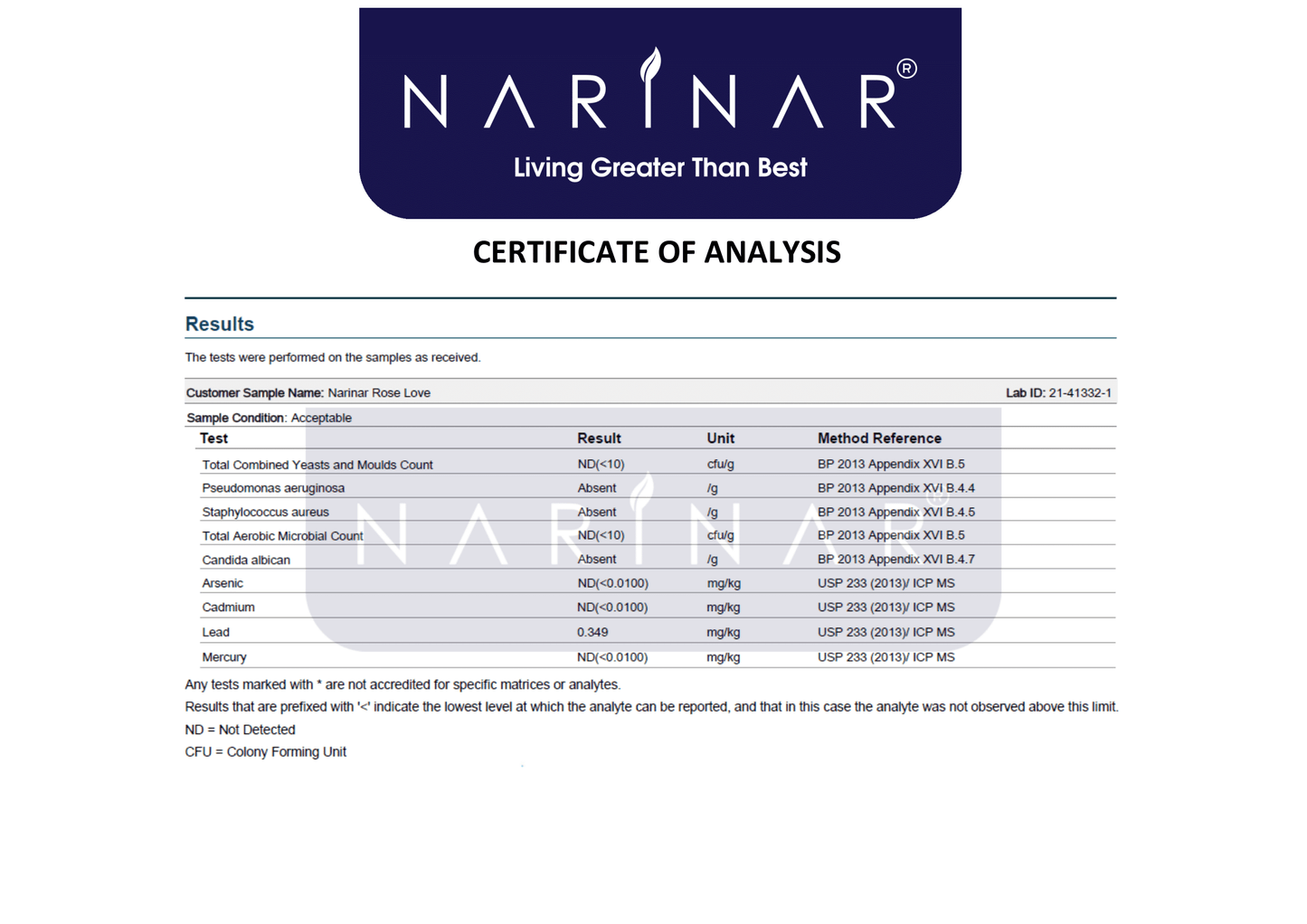 3 Cara Menggunakan Essential Oil
Topical Massage

Using Vitaflex massage
Use 4-5 drops of Narinar EO
Approved by Certified Aromatherapist

Bath

Use 5-10 drops of essential oil
Use sponging technique
Approved by Certified Aromatherapist

Aromatherapy Diffuser

Ultra Quite
Approved by CE, FCC/ Safe for Baby
As a night light (7 LED Color)
Waterless Auto-Cut-Off
Approved for best use with NARINAR Therapy Oils
Mengapa Anda Tak Perlu Risau Dengan Produk Kami?
DIUJI DI MAKMAL

OLEH AROMATHERAPIST BERTAULIAH

GMP

DISAHKAN HALAL

SELAMAT UNTUK BAYI
Pengguna Sebenar. Hasil Sebenar.